---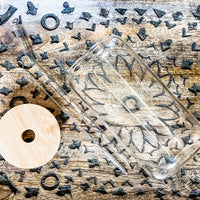 16 Oz Glass Tumbler with Bamboo Lid and Straw
Introducing our 16-ounce glass drinking jar with a natural bamboo lid and a matching glass straw, where style meets sustainability. This versatile and eco-friendly jar is designed to enhance your drinking experience while reducing single-use waste.
The jar's durable glass construction ensures a clean and pure taste with every sip, while the generous 16-ounce capacity makes it perfect for enjoying a variety of beverages, from refreshing iced teas and lemonades to smoothies and infused waters.
The natural bamboo lid adds a touch of elegance and provides a secure seal, allowing you to carry your favorite drinks on the go without worrying about leaks or spills. The lid also features a convenient silicone ring that enhances the jar's insulation, keeping your beverages cooler for longer.
Included with the jar is a sleek and reusable glass straw, adding an extra layer of sustainability to your drinking experience. Say goodbye to disposable plastic straws and embrace an eco-friendly alternative that's not only functional but also enhances the visual appeal of your drink.
Hand wash only.