---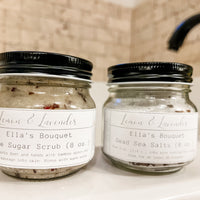 Ella's Bouquet: Limited Collection
You'll feel like you're in a bed of roses with these amazing rose-infused products. 
Did you know? Roses, besides smelling wonderful and looking pretty, roses are actually anti-inflammatory so they can help soothe your skin. Roses are also great at moisturize your skin. Of course, the scent of roses can also help you relax and uplift your mood so they have therapeutic benefits as well. 


Rose Sugar Scrub: sugar scrubs off those dead skin cells and in turn helps your skin look bright, fresh, and smooth. Coconut oil is a great moisturizer which will help leave your skin feeling smooth and hydrated. It also has an anti-aging perk as it's packed with antioxidants. 


To use: scoop out a spoonful using our bamboo spoon. You can use on any part of your body (but not recommended on face as it's too abrasive). Rub into skin a few seconds and then rinse with warm water until the coconut oil has absorbed into skin. 


Rose Dead Sea Salts: Dead Sea salts are great to soak in to help with not only muscles to relax but also with any skin conditions. We do not claim that soaking in Dead Sea salts will heal specific skin conditions but over time it may help with problems associated with skin conditions such as itching, redness and swelling. Consult a physician if you have skin conditions before using. Pour about 4 ounces of salts into running bath water and soak for about 20 minutes. To prevent rose petals from clogging bath, simply scoop them out before emptying water.