---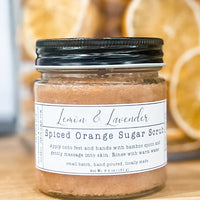 Spiced Orange Sugar Scrubs - Small Batch by Lemon & Lavender
Indulge in the rejuvenating experience of our Spice Orange Sugar Scrub, meticulously crafted to pamper your skin. Enriched with the invigorating essences of orange and clove, this luxurious scrub combines the zesty brightness of oranges with the warm, comforting notes of clove to create a delightful sensory journey.
Our sugar scrub is designed to exfoliate, revitalize, and moisturize your skin. The fine sugar granules gently remove dead skin cells, leaving your skin feeling silky smooth and refreshed. The natural oils in this scrub, combined with the essential oils of orange and clove, provide a nourishing and hydrating sensation, leaving your skin with a healthy, radiant glow.
The Spice Orange Sugar Scrub offers a spa-like experience in the comfort of your own home. Whether used in your daily routine or as an occasional treat, it will invigorate your senses, soothe your soul, and leave your skin feeling soft, supple, and delicately scented with the harmonious blend of orange and clove. Elevate your skincare regimen and transform your bathing ritual with this aromatic and rejuvenating sugar scrub.


All natural orange mica for product color. For sensitive skin, consult a physician or test patch before use. Also note, clove essential oil not recommended on sensitive skin 
All natural orange mica used for coloring. Consult a physician or do a patch test before using if you have sensitive skin. 


Sugar, coconut oil, orange and clove essential oils, and orange mica