---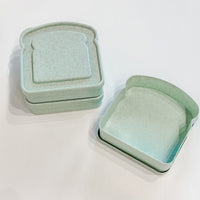 Bamboo Sandwich Container
Introducing our Bamboo Sandwich Container – the eco-friendly and stylish way to carry your delicious sandwiches while reducing your environmental footprint. Crafted with care from sustainable bamboo, this container offers a unique combination of durability and natural charm.
**Key Features:**
**Sustainable Material:** Our sandwich container is made from bamboo, a renewable resource that's not only kind to the planet but also sturdy enough to protect your sandwiches.
**Chic Design:** The minimalist yet elegant design complements your eco-conscious lifestyle. It's a statement of your commitment to both style and sustainability.
**Practical Size:** With dimensions perfectly tailored to fit your favorite sandwiches, this container keeps your food fresh and secure, whether you're headed to work, a picnic, or a hike.
**Secure Closure:** A reliable bamboo lid ensures your sandwiches stay intact and fresh until you're ready to enjoy them.
**Easy to Clean:** Cleaning is a breeze – simply hand wash or wipe the container for convenient reuse.
Our Bamboo Sandwich Container is more than just a storage solution; it's a step towards a greener, more sustainable world. Embrace eco-friendly living with style and reliability. Make a statement for the environment while savoring your favorite sandwiches, one bite at a time.