---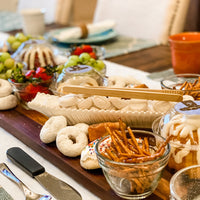 Charcuterie Class - Book Your Private Event
Let Lemon & Lavender Madison host your next Girls Night Out!
Event Details:
Book with either 6, 8, or 10 guests. Cost is $75 per person.
Each guests will receive one artisan charcuterie board measuring approximately 6" x 18" (valued at $70), along with tips and tricks to wow your guests at your next gathering.
Each participant will receive a handout to take home outlining foods to use, parings, etc. Pictures are allowed of the final charcuterie board created for later use by the guests.
Our private event allows for participation style (each guests can help set up the charcuterie) or everyone can sit back and relax as we put together a charcuterie board. We use a three foot charcuterie board to showcase a meat/cheese set up, a fruit set up, and a dessert set up.
Events run 1-2 hours depending on how interactive the participants are. 
Once the boards are created, guests can enjoy the charcuterie! 
Please email sales@lemonandlavendermadison.com with any questions you may have. Once booked, we will reach out to connect with you on a date for the event. Refunds are not allowed, however we will reschedule with you should something come up.