---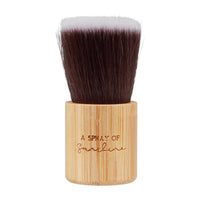 Mini Dry Shampoo Brush
Introducing our Mini Bamboo Dry Shampoo Brush – your secret weapon for fresh and fabulous hair on the go! Crafted with care, this pocket-sized wonder is designed to keep your locks looking their best, anytime, anywhere.

Our Mini Bamboo Dry Shampoo Brush is the perfect solution for those moments when your hair needs a quick pick-me-up. Its soft, natural bamboo bristles are gentle on your scalp while effectively distributing dry shampoo through your hair, revitalizing and adding volume without the need for water.

The compact and ergonomic design fits comfortably in your hand, making it easy to use while traveling, at the gym, or during a busy day. It slips seamlessly into your purse or toiletry bag, ensuring that you're always prepared for a hair refresh.

Sustainability is at the heart of our product. The handle is made from eco-friendly bamboo, a renewable resource, and the bristles are cruelty-free, making this brush a responsible choice for both your hair and the environment.

Say goodbye to oily or flat hair and hello to a fresh and voluminous look with our Mini Bamboo Dry Shampoo Brush. Embrace convenience, portability, and eco-consciousness as you keep your hair looking its best, no matter where life takes you.