---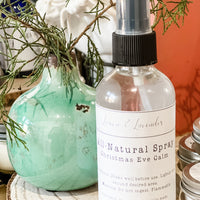 All-Natural Spray (Holidays)
Introducing our All-natural spray: Holiday Edition, a delightful blend of all-natural ingredients meticulously crafted to evoke the magical essence of Christmas. Transform your space into a festive haven with this enchanting spray that captures the spirit of the season.
🎄 **Festive Fragrance Fusion:** Immerse yourself in the cozy warmth of all the best Christmas blends. Our carefully curated blends ensure a symphony of scents that instantly transport you to the heart of the holiday season.
🌿 **Pure and Natural Ingredients:** We believe in the power of nature, so our spray is crafted with only the finest essential oils and plant extracts. No artificial fragrances  – just pure, natural goodness that embraces the true essence of Christmas.
🏡 **Versatile Use:** Whether you're spritzing it on your Christmas tree, enhancing the ambiance of your living room, or creating a welcoming atmosphere for holiday gatherings, our spray adds a touch of festive magic wherever it's used. It's the perfect companion for creating cherished memories during this joyous time of year.
✨ **Long-lasting Cheer:** A few spritzes go a long way. Our concentrated formula ensures that the delightful aroma lingers, infusing your space with the spirit of the holidays for an extended period.
🌍 **Eco-Friendly Packaging:** We care not only about your experience but also about the environment. Our spray comes in a reusable, eco-friendly packaging, reflecting our commitment to sustainability.
Embrace the season with our All-Natural Spray – where the magic of Christmas comes alive in every spritz. Make this holiday season truly special with the essence of nature's best offerings.